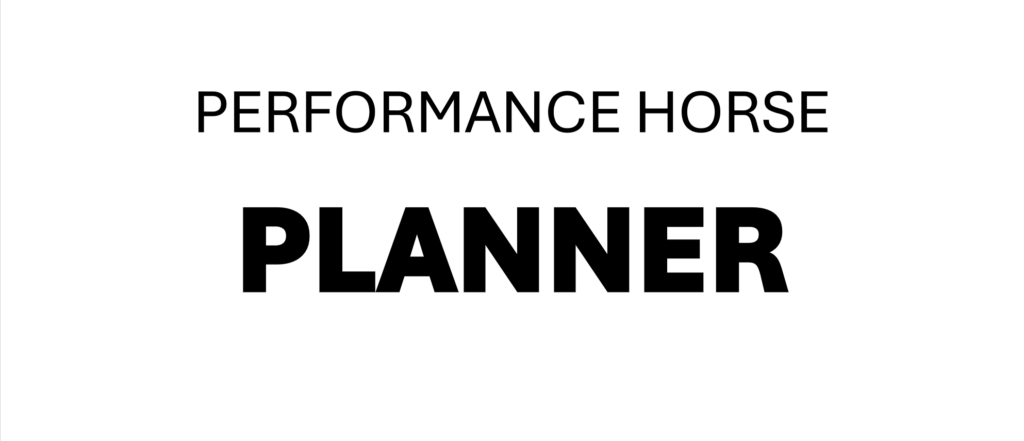 ABOUT THE PERFORMANCE HORSE PLANNER
I made the planner for all of us who have horses because I missed
a planner that could give me the correct overview of the horses and training by day, week and month.
I hope you like it!

Anne Svensson

Available to order! (US)
Available to order! (Germany)
Available to order! (NL)
Available to order! (Poland)
Available to order! (Sweden)
Available to order! (Italy)
Available to order! (Spain)
Available to order! (France)
Available to order! (UK)
This planner will work for you who have horses, especially if you have many horses or are a horse trainer. You can adjust the pages for your own advantage and if you want improvements, do not hesitate to contact me!

The Performance Horse Planner is a result of years of looking for a way to report and plan for the horses in our training business.
Do you want more pages to put that little extra spark to this planner?
BONUS MATERIAL AVAILABLE FOR DOWNLOAD (REGISTER AS A PLANNER USER TO DOWNLOAD):

Stud farm pages (soon)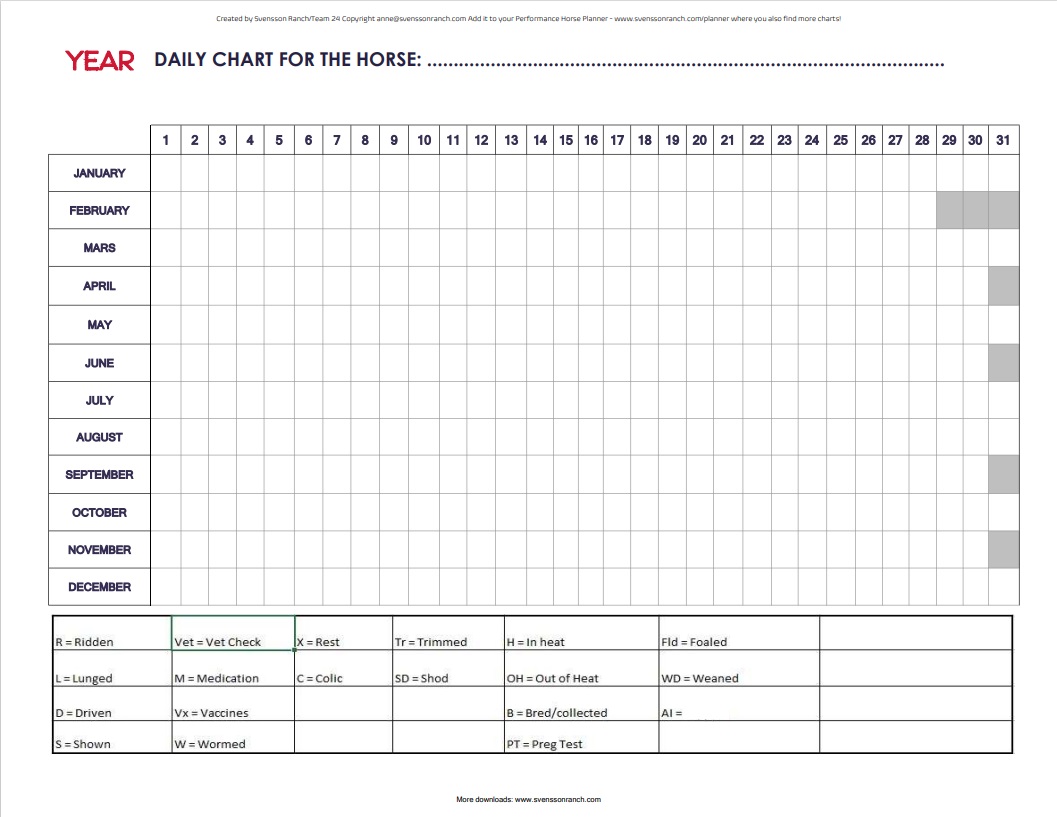 One Year Plan for Horse
A Year plan overview on a page for one horse. Use short codes for your training and other happenings. Add your own short codes if you need. Have fun!
Published:
October 9, 2023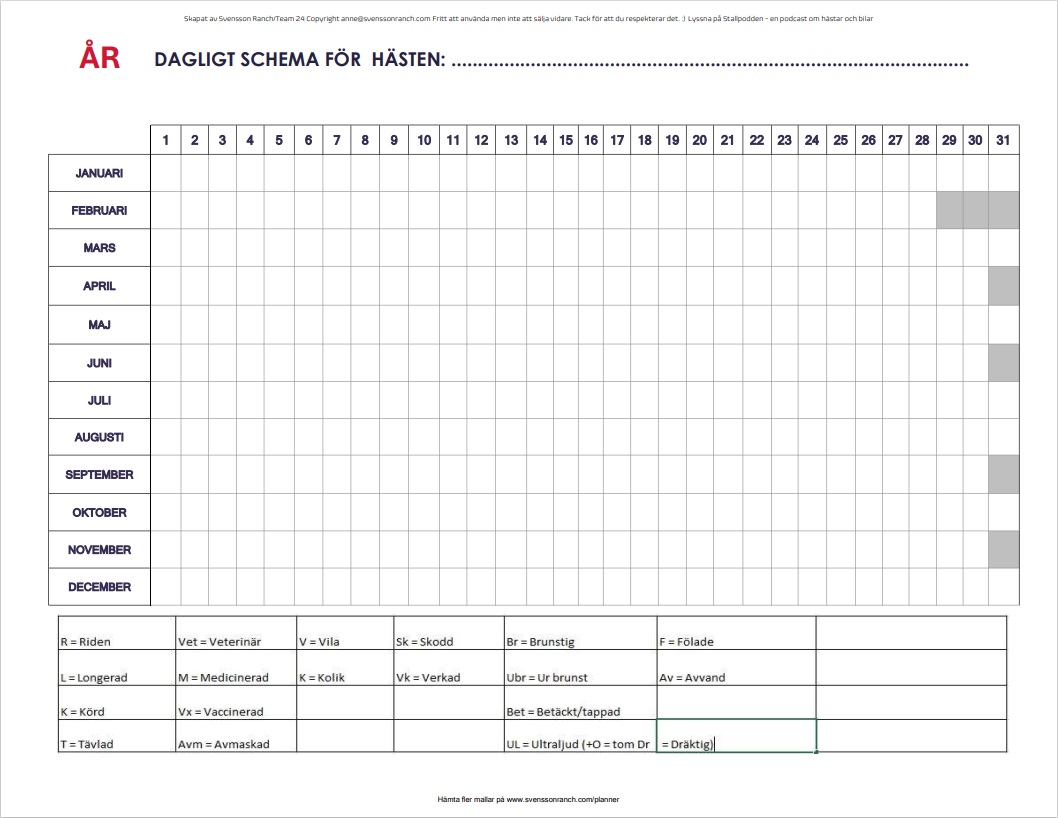 Årsplan häst
En hel årsplan för en häst där du för in olika händelse med förkortningar. Lägg till egna förkortningar efter behov. Ha kul!
Published:
October 9, 2023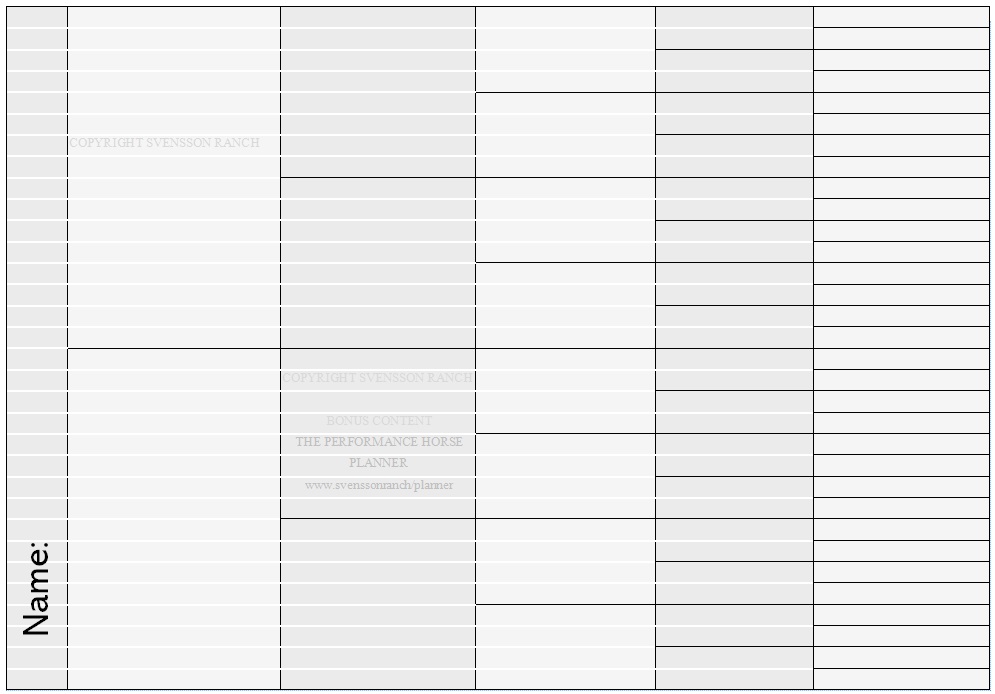 Pedigree
Download a 5 generation pedigree chart to print
Published:
October 17, 2023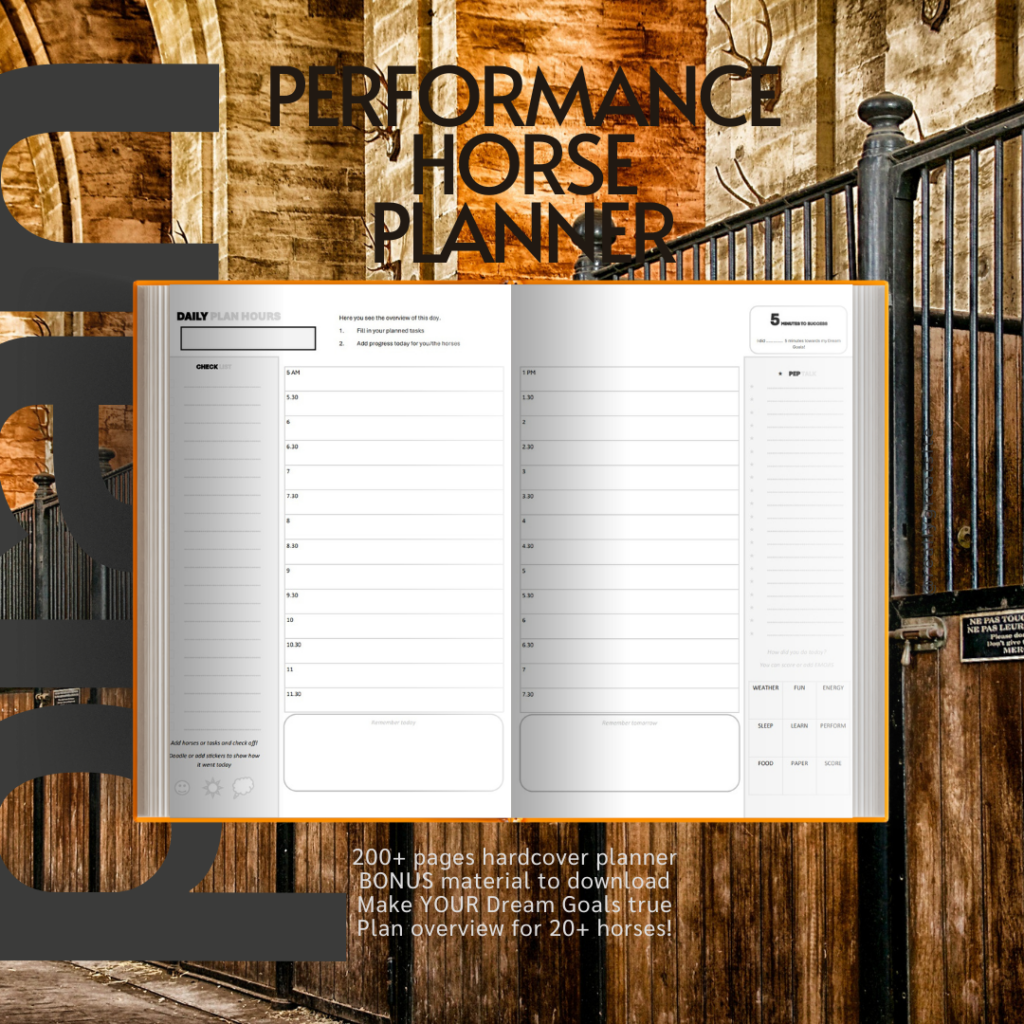 The planner is very user friendly:
You will plan your MONTH and your WEEK in advance, so you keep track of your and your horses progress.
Then you have the DAILY journal pages that will help you plan lessons/training/tasks hour by hour.
Lots of lists for each horse progress, notes your horses intervals or daily training.
Also suitable for your employees and grooms.
The planner is for 2 months with DAILY pages for HOURLY planning
Add up to 28 horses to a monthly overview
Training lists/week and months for interval notes per horse
WEEKLY and MONTHLY follow up pages
BONUS 1: a 5-minute plan for your OWN DREAM GOALS
BONUS 2: Add on pages online!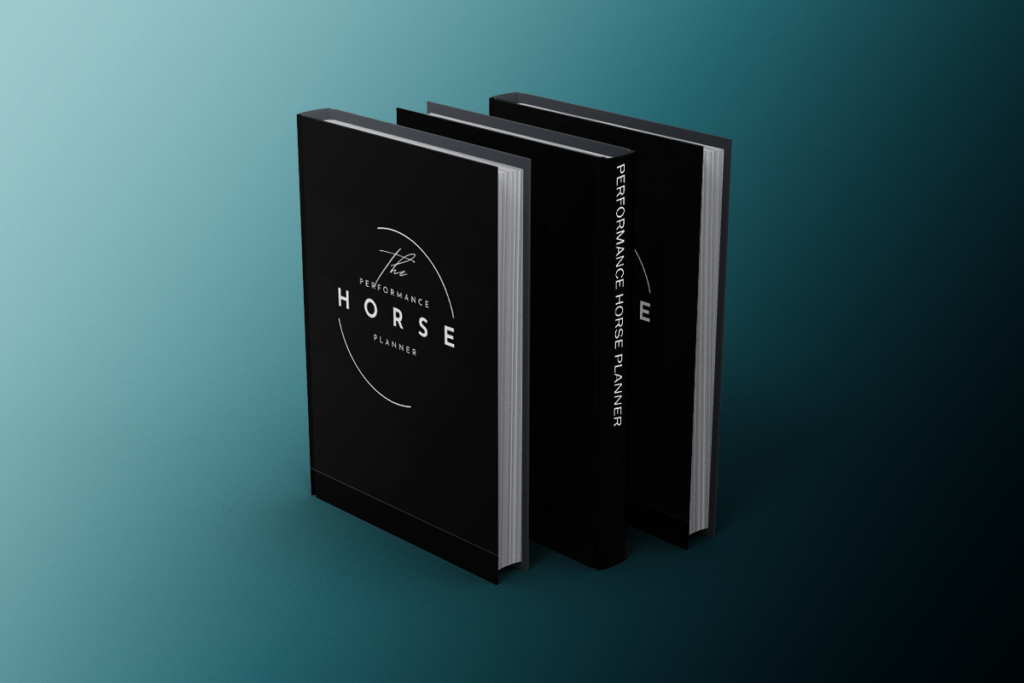 The planner is 211 pages for 2 MONTHS for only $19.99 – bulk up if you need more months!
The best planner for the Professional Horse Trainer!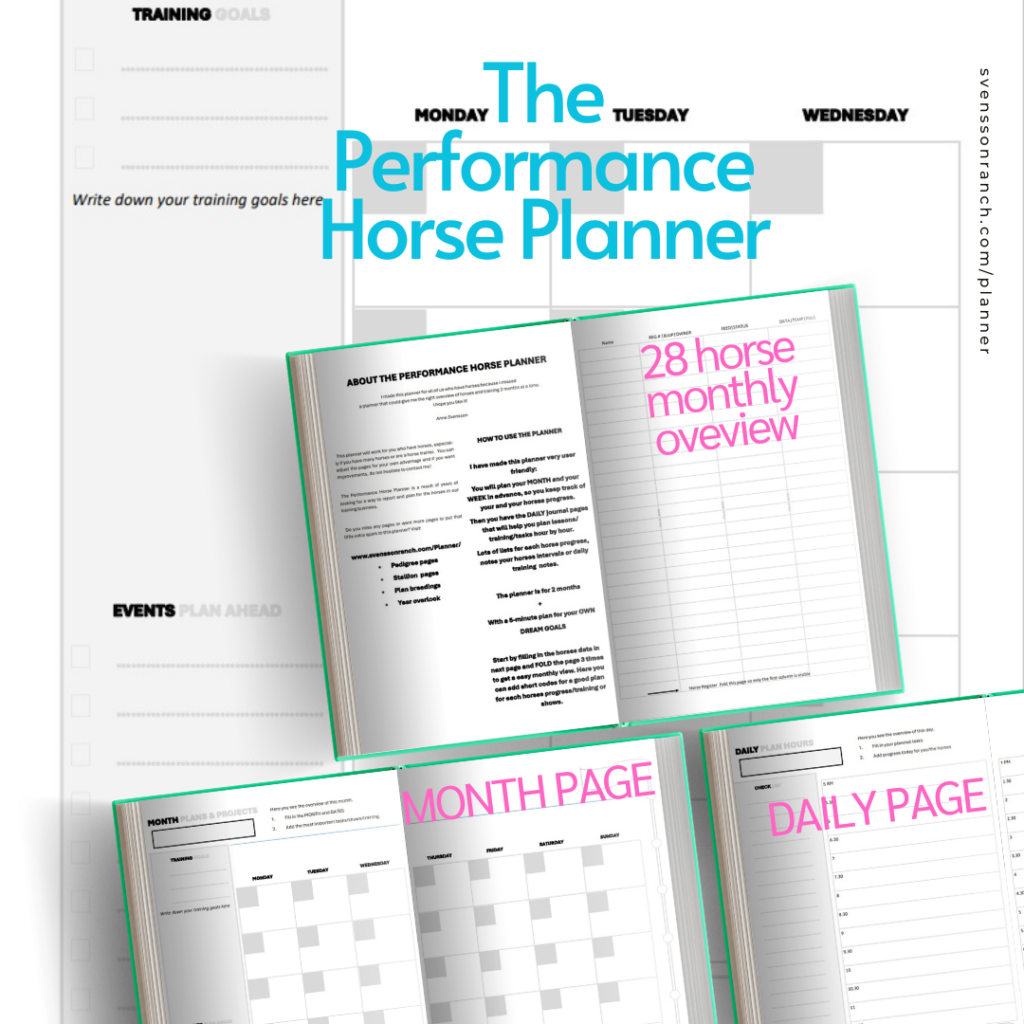 The Performance Horse Planner is an essential tool for horse owners and trainers. It helps to keep track of the horse's health, training, and performance goals. With a performance horse planner, you can create a personalized schedule for your horse's training and competition. You can also record important information such as vet appointments, farrier visits, and any medications your horse may be taking.
By using The Performance Horse Planner, you can identify areas where your horse may need more attention or training. This tool helps you to set realistic goals for your horse and track their progress over time. It also helps you to stay organized and on top of your horse's needs, which can be particularly important when dealing with multiple horses or a busy competition schedule.
Overall, The Performance Horse Planner is an invaluable resource for anyone who owns or trains horses. It helps you to stay focused and motivated, and ensures that your horse is receiving the best possible care and training. So if you haven't already, consider investing in The Performance Horse Planner today!